Newark Festival
Back for the 6th year running, the now well established three day festival at the Riverside Park in view of Newark Castle, presents as its highlight, a strong 80's Night featuring UB40, Matt King and Level 42 and the original Wailers who will be performing Bob Marley and the Wailers classics on Saturday 17 June 2017.

Friday 16 June is Riverside Rocks which includes tribute bands Kazabian, Oasish, Snow Control and Stereotonics.

Sunday 18 June is the Free Family Day takes place at the Riverside Park with a day full of entertainment, food and drink for all the family and the evening 'Swing in the Park' Concert and fireworks.
Further details are available at http://www.newarkfestival.co.uk/
Armed Forces Day
Armed Forces Day
Armed Forces Day is a chance to show your support for the men and women who make up the Armed Forces Community, from currently serving troops to service families, veterans and cadets.
Details of the national Armed Forces Day ceremony can be found at https://www.armedforcesday.org.uk/
Newark Armed Forces Day
The Newark Armed Forces Day event will take place on Sunday 25 June in the Market Place.
The day will start with a parade of veterans, serving military personnel and cadets led by a band. There will be a family funday to accompany the parade and various competitions.
Newark Town Council is providing administration of the event.
Annual Camps - RAF Bases
Every year, Cadets are given the opportunity to attend camps on operational RAF stations. In 2017 Newark Air Cadets have an opportunity to apply for a place on a number of summer camps including:
RAF Spadeadam from 22 July to 29 July;
RAF Valley from 22 July to 29 July;
RAF Spadeadam from 29 July to 5th August;
RAF Spadeadam from 5th August to 12thAugust
RAF Halton from 5th August to 12th August;
RAF Speadadam from 12th August to 19th August;
Trent Wing Camp at Beckingham from 19th August to 25th August.
These camps are offered with the purpose of getting Cadets even closer to Service life. Cadets will sleep in RAF accommodation blocks, eat at the airmen's mess and visit the various sections around the station. They will meet the base personnel, as well as take part in sports, quizzes, aircraft recognition competitions and any social activities which may be available. There will be drill, uniform and room inspections and everything will earn points for you as an individual and for your team.
Each RAF station has an Air Cadet Liaison Officer (ACLO) who will ensure that the camp runs smoothly and that you get support and as many opportunities to do things as possible.
Places are limited and in great demand, not everyone who wants to attend will be able to. A sheet, with cut-off date, with more information including the cost of attending is provided at Squadron for Cadets to express their interest in attending.
Scampton Air Show
Scampton Airshow will be an exciting, two-day, family friendly airshow, taking place over 9-10 September 2017 at RAF Scampton, the home of the Red Arrows.
Further information is available at http://scamptonairshow.com/default.asp
Air Bridge Commemoration Service
This is an event held at Newark Cemetery – at a special memorial near to the Polish War Graves – usually around the third Sunday of September.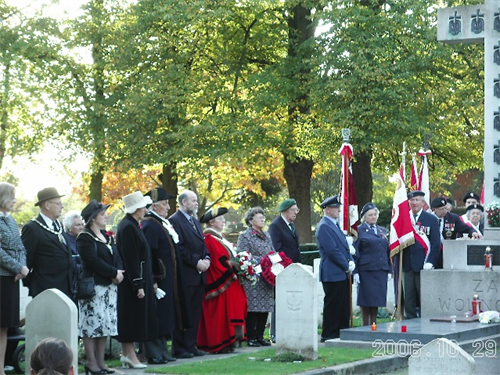 Newark Town Council has taken over the whole organisation of the event, (it was previously organised by the Airbridge Association). The service remembers the 250 airmen who lost their lives during the Air Bridge operations, which helped the Warsaw uprising in 1944. People from all over the country and Poland attend, and wreaths are laid. Refreshments are then served at the Town Hall.
The date for the 2017 Air Bridge Ceremony has yet to be confirmed. Further information is available from Newark Town Council.
All Souls
Each year, on the last Sunday in October, Polish Airmen who gave their lives in the 2nd World War are remembered at the All Souls ceremony in Newark. The service of remembrance is organised by the Polish Air Force Association. It takes place in the Commonwealth War Graves Section of Newark Cemetery. It normally begins at 3pm when wreaths are laid, and tea lights are lit on each of the graves. This is attended by Polish people from all over the country.
Further information is usually posted on the Newark Town Council website. http://newark.gov.uk/Default.aspx