Scampton Air Show
Scampton Airshow will be an exciting, two-day, family friendly airshow, taking place over 9-10 September 2017 at RAF Scampton, the home of the Red Arrows.
Further information is available at http://scamptonairshow.com/default.asp
Battle of Britain Commemoration Service
Newark Town Council holds a commemorative service, in St Mary Magdalene Parish Church, in conjunction with the Royal Air Force Association (RAFA). This event usually takes place on the Sunday prior to the national event. Before the service, guests will gather in the Ballroom and be welcomed by the Civic Party at 10.15am. A procession will be formed, which will then make its way to the Parish Church. Wreaths will be laid at the War Memorial, with a fly past by a Spitfire, if it has been possible for the RAFA to arrange. After the service, the guests will return to the Town Hall for Champagne Cup.
Speeches will be made by the Town Mayor and a representative from the Royal Air Force Association.
On Sunday, 15 September 1940, the Luftwaffe launched its largest and most concentrated attack against London in the hope of drawing out the RAF into a battle of annihilation. Around 1,500 aircraft took part in the air battles which lasted until dusk. The action was the climax of the Battle of Britain and this event commemorates this historic event.
There is a parade from London Road car park then a wreath laying ceremony at the War Memorial commencing at 10.55am. The event is again being supported by RAF Cranwell and if possible a flypast will have been arranged.
Newark Town Council have further information available at http://newark.gov.uk/Civic-Events.aspx
1260 Squadron Dining-In night with Graduation and
The 1260 Squadron Newark & District Air Cadets Dining-In night will incorporate the Graduation ceremony for Air Cadets who joined earlier in 2017 (ITF1) and the Annual Presentation of Squadron Awards. Three events for the price of one!
Our Dining-In night will be in the style of a Royal Air Force Dining-In evening so dress will No.5 (or No.4 interim) for uniformed staff and guests and black tie (or ladies equivalent) or lounge suit for civilian guests.
Taking place on Saturday 16 September at Kelham Hall the event is open to all and we especially look forward to welcoming parents to support their sons and daughters who may be graduating or receiving an award to recognise outstanding achievement. The cost is £35.00 for adults and £20.00 for Cadets.
To register your interest in attending or to donate a raffle prize e-mail [email protected]
Air Bridge Commemoration Service
This is an event held at Newark Cemetery – at a special memorial near to the Polish War Graves – usually around the third Sunday of September.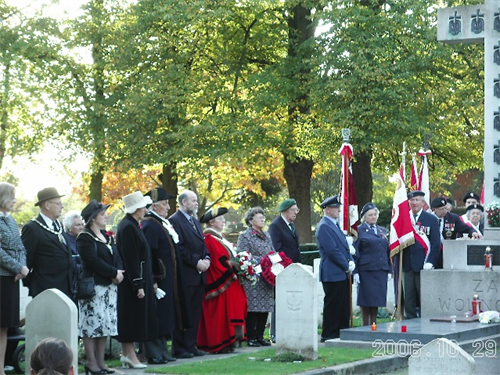 Newark Town Council has taken over the whole organisation of the event, (it was previously organised by the Airbridge Association). The service remembers the 250 airmen who lost their lives during the Air Bridge operations, which helped the Warsaw uprising in 1944. People from all over the country and Poland attend, and wreaths are laid. Refreshments are then served at the Town Hall.
Further information is available from Newark Town Council http://newark.gov.uk/Civic-Events.aspx
Open Evening for new Air Cadets
Newark and District Air Cadets are recruiting. Boys and girls age 12 or over and in year 8 or above are encouraged to come along to our open evening at 19.30 on Thursday 28 September 2017, with parents/guardians, to find out more about joining this active group.
Cadet Zoe Walker said, "We meet every Tuesday and Thursday evening and there is something happening most weekends. We get to go flying and gliding, take part in the Duke of Edinburgh awards scheme, go on adventure training weekends and, in school holidays, week long camps as well as taking part in parades on occasions like Remembrance Sunday. On top of all this we meet new friends and get to have fun".
Commanding Officer, Flight Lieutenant Martin Derbyshire added "I started as an Air Cadet when I was 13 and am delighted to now have the honour of leading the group and I want to see more young people have the same opportunities for travel, adventure and making friends for life that I had".
If you are interested in joining, or just finding out more, then come along to our open evening or e-mail us at [email protected] for more information.
The open evening will take place at the Cadet Centre, 12-14 Sherwood Avenue, Newark, NG24 1QQ.
All Souls
Each year, on the last Sunday in October, Polish Airmen who gave their lives in the 2nd World War are remembered at the All Souls ceremony in Newark. The service of remembrance is organised by the Polish Air Force Association. It takes place in the Commonwealth War Graves Section of Newark Cemetery. It normally begins at 3pm when wreaths are laid, and tea lights are lit on each of the graves. This is attended by Polish people from all over the country.
Further information is usually posted on the Newark Town Council website. http://newark.gov.uk/Default.aspx
Remembrance Sunday
On Sunday 12th November the Annual Remembrance Day Service & Parade will take place in Newark. There will be a parade from London Road car park then a wreath laying ceremony at the War Memorial commencing at 10.55am.

The parade will include members of the Newark Branch of the Royal British Legion and representatives from the ex-Service Associations, Sea, Army and Air Cadets.

Following the Church Service there will be a march past in the Market Place when the salute will be taken.
Fund raising at Waitrose
Waitrose have very kindly supported Newark & District Air Cadets for a number of years by allowing Cadets to pack customer shopping and, hopefully, receive a donation in return.
This is our major fund raising event of the year with the money we collect paying to keep our mini bus on the road by covering insurance, road tax, MOT and service costs.
All 1260 Cadets are expected to take part in this activity and a rota system will be in place to ensure that there are Cadets available throughout the day. A sheet for Cadets to complete confirming the times that they will be at Waitrose will be available at Squadron.